22 Video Games to Skip Work for This Fall
By Eric Frederiksen
This article originally appeared on Playboy.com.
Every fall, all the big publishers in gaming get together and agree to release all their biggest games over the span of a single three-and-a-half-month period. All the big shooters, role-playing games, open world games, sports updates, and other games hit shelves at once to be out in time for Christmas.
Naturally, it can be hard to sort through them. While no one list could contain all of them, here are some of the most interesting games to look out for this fall.
SEPTEMBER
'SUPER MARIO MAKER'
Sept. 11/Nintendo Wii U
What if you made the best Super Mario game in years? It's possible. When Super Mario Maker hits, the doors will fly open. Anyone can make their own Mario level, in the style of the original Super Mario Bros., Super Mario Bros. 3, Super Mario World, or New Super Mario Bros.
If you make a level--and can actually finish it--that level can be shared for all to download. Like Little Big Planet, Super Mario Maker will depend on a strong community and good curation. Unlike Little Big Planet, though, Mario has a strong, steady fanbase supporting a simpler game with great jumping. Once fans get their hands on this game, the levels that we see are going to be crazy.
'FORZA MOTORSPORT 6'
Sept. 15/Xbox One
When Forza Motorsport first hit late in the original Xbox's lifecycle, it was an also-ran to the monolithic Gran Turismo. Now it stands as its own thing and one of Microsoft's flagship exclusives. The series lets you play how you like, at your preferred difficulty level--all you need is to love cars.
Forza Motorsport 6 brings 450 cars--more than double Forza 5--and 26 tracks, plus, for the first time, adverse driving conditions. Night racing and rain will add new dimensions of difficulty, giving the series its biggest refresh in years.
'NHL 16'
Sept. 15/PS4, Xbox One
EASHL, the EA Sports Hockey League, which has players each controlling a single athlete, is reappearing in NHL 16 after its absence last year. Couch co-op and 6 vs. 6 online play will make an appearance as well, giving hockey fans more ways to play together than ever.
EA is recreating almost all of the arenas in the league to give each arena a distinctive feel. There's a lot to make up for after last year's lackluster showing, but it looks like EA is well aware and trying to do right by hockey fans this time around. Also, this version has Playoff Beards.
'FIFA 16'
Sept. 22/Windows, PS3, PS4, Xbox 360, Xbox One, Mobile
Soccer or, as the rest of the world calls it, football, is the biggest sport in the world. FIFA 16, as a result, is one of the biggest game releases. This time around, FIFA brings in female players and 12 women's national teams--a first for the series.
A new training mode will let you develop your players before putting them on the field. Things like slide tackling and no-touch dribbling are getting upgrades, and if you're playing on one of the newer consoles, elements like weather will also make an appearance.
'SOMA'
Sept. 22/PS4, Windows, Xbox One
Frictional Games helped kickstart a resurgence of the horror genre a few years back with Amnesia: The Dark Descent, one of the first of a new breed of first-person horror titles that have players putting down their guns for a different kind of experience.
SOMA, like Amnesia, is a first person exploration game. After visiting your doctor about some problems with your head, you wake up in an underwater facility. You have no memory of how you got there. It becomes apparent very quickly, though, that something is terribly wrong, as machines talk and act like humans, confused and frightened. If you can survive, maybe you can figure out what's going on and escape.
'TONY HAWK'S PRO SKATER 5'
Sept. 29/PS3, PS4, Xbox 360, Xbox One
Everything old is new again, but that's not always a bad thing. I was a huge fan of the Tony Hawk series in its heyday and I'm excited to see it make a comeback. While I'm not exactly thrilled about the art style, the focus on old-school gameplay, with carefully designed levels instead of a huge open world suggests that this could be a return to form for the original extreme sports game.
The game has a strong soundtrack--a hallmark of the series--including punky stuff from groups like Bully and Milkman and hip-hop like Atmosphere that should make levels fun to hang out in for as long as possible. Hopefully this is a reminder of what we've been missing instead of an ugly zombie that dug its way out of a deep grave.
'FALLOUT ANTHOLOGY'
Sept. 29/Windows PC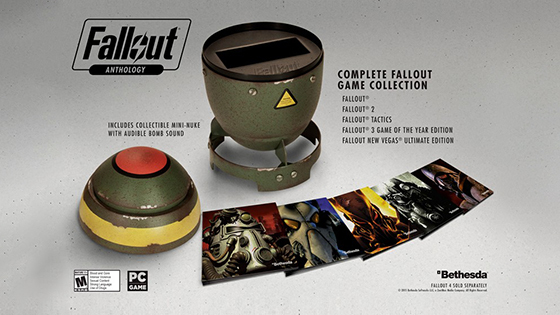 Photo via Bethesda Softworks
As one remake or compilation after another pour forth from every developer under the sun, it gets tiring. Very few are worth picking up. But then very few have as much history as the Fallout series and even fewer come in an awesome bomb-shaped case.
While it's going to be impossible to play through all the games included in this box--Fallout, Fallout 2, Fallout Tactics, Fallout 3, and Fallout: New Vegas--before Fallout 4, they'll give fans of the kitschiest apocalypse around that much more to chew on while they wait for the new game, and something to go back to long after they've finished with that.
More from Playboy.com:
'Diablo 3' is One of the Greatest Comeback Stories in Video Games
'Starcraft 2' Players Arrested for Allegedly Fixing Matches in Korea
The Developers of 'Assassin's Creed Syndicate' Know Exactly What Fans Want
OCTOBER
'ROCK BAND 4'
Oct. 6/PS4, Xbox One
Music games are coming back! Or at least, Harmonix hopes they are. Five years ago, Activision and Harmonix were fighting tooth and nail for dominance in the music game market when the bottom fell out. Now both are on their way back, and Rock Band 4 is banking on its long history.
Your old instruments and purchased songs will all work (within the same console family), in addition to the new songs and instruments. If you still have a closet full of plastic guitars, Rock Band 4 will do you right.
'UNCHARTED: THE NATHAN DRAKE COLLECTION'
Oct. 7/PS4
The Nathan Drake Collection isn't just a simple port. Even if you already own the original Uncharted trilogy, you might want to pick this one up.
New gameplay modes give new ways to enjoy the story, and a graphics overhaul including tons of brand new, totally re-done textures, make the games look new again. This is a great way to get ready for next year's Uncharted 4: A Thief's End.
'YOSHI'S WOOLY WORLD'
Oct. 16/Wii U
Nintendo games are, generally speaking, cuter than everyone else's games. Somehow, though, Yoshi's Woolly World manages to make those others look like they're not even trying.
Yoshi's Woolly World is built entirely with yarn and felt, and is so huggable I can hardly stand it. Plenty of games this fall are dark, gritty, and realistic, but Yarn Yoshi brings some warm fun. For extra fun, pick up one of the Yarn Yoshi amiibo figures, too.
'GUITAR HERO LIVE'
Oct. 20/Wii U, PS3, PS4, Xbox 360, Xbox One, Mobile
Like Harmonix and Rock Band 4, Activision is set to either make a comeback or do one final tour with Guitar Hero Live. While Rock Band 4 is relying mostly on its legacy of instruments and songs, Guitar Hero Live wants a totally fresh start.
The new guitar has two rows of three buttons instead of one row of five. CG backgrounds, band members, and audiences have been replaced with live-action video. Downloadable tracks are out, and "Guitar Hero TV" is in--a radio station-style presentation of new songs and song playlists to play on the fly. Whether it's a new approach or supporting a legacy, we'll find out this fall if music games have any life left.
'ASSASSIN'S CREED SYNDICATE'
Oct. 23 (consoles), Nov. 19 (PC)/PS4, Windows, Xbox One
Every time I think I'm tired of Assassin's Creed, Ubisoft finds a way to pull me back in. Last year's Unity bored me the game's least likeable character yet. This year's entry, Syndicate, changes things up.
We're moving to Industrial London--trains, electricity, and tall buildings! A grappling hook makes moving that much easier, and we'll now have two characters, Jacob and Evie Frye, to mix things up with different play styles. New ideas and a focus on single player make this the most interesting Assassin's Creed in years.
'THE LEGEND OF ZELDA: TRI-FORCE HEROES'
Oct. 23/3DS
Nintendo still has a lot of work to do on the big Legend of Zelda game they're working on, whether it's coming to Wii U or their announced but unnamed follow-up console. It's going to be a bit of a wait, whether it comes out in 2016 or even later.
In the meantime, though, you can get together with your friends and check out The Legend of Zelda: Tri-Force Heroes, which has three little Links working together to solve puzzles and beat bosses. You can play locally or online, and you can play alone or with two other players.
'HALO 5: GUARDIANS'
Oct. 27/Xbox One
Halo is the biggest event on Xbox and one of the biggest in gaming. The Master Chief Collection had a troubled launch last year, but Halo 5: Guardians is built for Xbox One from the ground up with a new story featuring two squads of spartans and arena-based multiplayer for eSports fans.
If you're really into Halo, there's even a custom themed Xbox coming this fall.
NOVEMBER
'NEED FOR SPEED'
Nov. 3/PS4, Windows, Xbox One
After Need for Speed: Rivals, EA's big driving series took a year off to regroup and do something new. This year, they're coming back with Style, Speed, Build, Crew, and Outlaw--five ways to play.
Simply called Need for Speed, this year's entry has you interacting with five real life automotive icons in events meant to push cars to their limits. Style focuses on drifting and jumping. Speed is about fast times. Build asks you to accomplish goals through car modification. Crew is about coordinating your moves with your team. Outlaw, of course, puts the cops on your tail. Some fan favorite elements from games like Need for Speed: Underground and Hot Pursuit brought together with some pretty impressive graphics should make for a great update to the series.
'CALL OF DUTY: BLACK OPS III'
Nov. 6/PS3, PS4, Windows, Xbox 360, Xbox One
While Modern Warfare 4 is what really sent Call of Duty into the stratosphere, the Black Ops branch of the series has been a consistent fan favorite. After a couple transitional years, Treyarch is back with a new entry, Call of Duty: Black Ops III.
Black Ops 3 takes the storyline from the first two yet further into the future, 40 years after the events of the previous game. Soldiers are cybernetically enhanced and fight alongside artificially intelligent robots. The campaign is bigger than ever with 4-player co-op, multiplayer features characters with special abilities, and there's an all new star-studded Zombie mode to check out.
'FALLOUT 4'
Nov. 10/PS4, Windows, Xbox One
Few games on this list are as big as Fallout 4. Fallout 3 was a mega-hit for developer Bethesda, and fans have been clamoring for a sequel since its release seven--yes, seven--years ago. At E3 this year, it was finally announced to thunderous applause, with a 2015 release date.
This time around, the main character will be fully voiced, and will explore Bethesda's take on a post-nuclear Boston. A pet dog that won't die five seconds after you find it is just the start to what new stuff we can look forward to. Customizable weapons and armor, constructable buildings, and dynamic weather promise to make this the deepest Fallout yet, and a game sure to suck up hundreds of hours of our time. Xbox fans can also look forward to a free copy of Fallout 3 for Xbox 360, with backwards compatibility, and sometime after release the addition of PC mods into the console version of the game.
'RISE OF THE TOMB RAIDER'
Nov. 10/Xbox One, Xbox 360
In what is surely an effort to kill gamers, Microsoft and Crystal Dynamics will release the newest game in Lara Croft's long-running series, Rise of the Tomb Raider, on the same day as Fallout 4.
2013's Tomb Raider established Lara as a strong survivor and a lethal force when equipped with a bow and arrow. While there will definitely be combat this time around, and plenty of it, we can look forward to actual, real tomb raiding. While Tomb Raider had Lara confined to a storm-battered island, this one will take her to icy mountain peaks and lost desert cities, carved into cliffsides. The game will still be open, but it's likely we can look forward to at least two different maps to explore, raid, hunt and battle in.
'STAR WARS BATTLEFRONT'
Nov. 17/PS4, Windows, Xbox One
Star Wars: Battlefront was a fan-favorite but short-lived series in the early 2000s that, for some reason, disappeared for nearly a decade. It's back this fall, though, and it might be a Star Wars fan's dream come true.
The Star Wars take on the Battlefield formula lets you step into Imperial and Rebel shoes--even those of Luke, Darth Vader, Boba Fett, and others if you're lucky. If X-Wings and TIE Fighters are more your speed, the Battle Squadron mode might be even better. The game looks and sounds exactly like we expect from Star Wars, and our short time with it suggests it'll play just as well.
DECEMBER
'JUST CAUSE 3'
Dec. 1/PS4, Windows, Xbox One
Rico Rodriguez is back, and this time he's working for himself. Just Cause 3 brings back all the chaos and craziness of the series but this time with more vehicles, more weapons, more grapple tethers, and more ways to cause destruction and mayhem.
The team wants the game to be as open as possible, so you won't be stuck playing the campaign for hours before you can start creating YouTube-worthy wackiness.
'RAINBOW SIX SIEGE'
Dec. 1/PS4, Windows, Xbox One
Taking down terrorists has never been as fun or dangerous as in Rainbow Six. Death is fast and sudden, and the best laid plans can go wrong at a moment's notice. The game brings a new Operator class system to ensure each player has something to do, and should offer 20 classes to make sure each game is a bit different.
Fans of team-based shooters like Payday 2 and Left 4 Dead should find something to love here even if they haven't played Rainbow Six games before.
'XENOBLADE CHRONICLES X'
Dec. 4/Wii U
The original Xenoblade Chronicles was a fan favorite on the Nintendo Wii, filling a much needed gap in the system's line-up--the Japanese role-playing game.
Xenoblade Chronicles X is set to do the same thing. Nintendo systems get some of the best games around, but support from companies outside Nintendo isn't always the best, sometimes leaving Wii U owners without much to play. This contribution from Monolith Soft should take care of that for a good long time.
Eric Frederiksen has been a gamer since someone made the mistake of letting him play their Nintendo many years ago, and it's been downhill ever since. He takes a multifaceted approach to gaming news and reviews, mixing business analysis, cultural studies, tech and design. Eric has written for outlets like Playboy.com, TechnoBuffalo.com, TabTimes.com, and Kombo.com. In his free time, he perfects his napping technique and pursues the elusive perfect cheeseburger.
Also on HuffPost:
DIY Summer Games For Kids
---
By accepting you will be accessing a service provided by a third-party external to https://www.catchupnews.org/