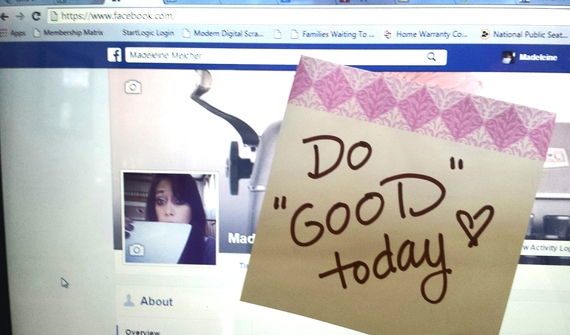 (Hope you don't mind if I call you Mark. I think you might have actually been my first contact on Facebook which would technically make us "friends," right? Anyway.)
Mark,
I am just but one of the estimated 1.3 billion active Facebook users, but I am one that thinks that Facebook and the appeal it has for people to show off their kids, their pets and even pictures of what they ate for lunch could make a move that would give a huge boost to charities all over the globe. I know you are a giver, you and Priscilla have given huge donations of your own money to schools and to science, among others, and what I am proposing won't cost you a dime out of your pocket.
As I stream through my Facebook feed each day, I never cease to be amazed at the number of people I know who have jobs and busy families that have the time to post not just a picture of the chicken marsala they were presented with at lunch, but also an "after picture" of their empty plate, people who post every good and bad thing their 7-year-old has done since they were born and others who cannot help but share anything with a dancing cat or a dog with human teeth. I cannot help but wonder what would happen if these posts went one step further than to just entertain. What if these posts that fill up my feed, were also filling up charities with what they need to help others.
What if when someone posted a picture of their darling seventh grader dressed out in all their band concert glory or their toddler eating dirt that they had an option of giving to a charity like theDave Thomas Foundation for Adoption or St. Jude's Children's Hospital ?
What if when someone posted a video of singing cats or of their own pet they had a pop up option of donating to a charity that saves shelter animals? Or when someone posted something about a promotion that they just got, they gave to a back to work program or something that teaches new skills?
What? You want to post about politics? Give to Wounded Warriors or another group that gives back to soldiers who fought for your freedom to say what you want to about politics.
Wishing someone happy birthday? Give to an organization like Sweet Celebrations that throws birthday parties for children in need.
Honestly, Mark, this does not have to be something you require for posting. Look at how Ebay sellers add an option on at checkout for a charity donation. Look at how people loved sharing videos of themselves wet from the ice bucket challenge on Facebook and made lots of money for ALS research in the process. Facebook can do so much good without ever touching the company's bottomline. So what do you say? Can we do this together? We are all "friends" here and with the amount of time people spend on your pages, we sure could be doing some good at the same time.
In all seriousness, I hope you more than like this idea -- it could do a lot of good in a lot of places. Cannot wait to hear from you. "Message me," will ya?
All my best,
Madeleine (Facebook member since 2009)