There's a call for UK festivals to provide drug-testing services, in an attempt to reduce deaths.
The Royal Society for Public Health (RSPH) says stronger ecstasy in the UK is resulting in "serious health harm".
They want festival-goers to be able to test their drugs on site to make sure they aren't carrying dangerous substances.
Testing was piloted at Secret Garden Party and Kendal Calling festivals in 2016.
Freddie Fellowes, the founder of Secret Garden Party, backs the call to roll out drug testing across more UK events.
He says the trial last year was "a wide success".
"If it's a good idea in one place it's a good idea everywhere," he tells Newsbeat.
We came across someone who was selling ecstasy tablets that turned out to be 100% concrete
Freddie Fellowes
Founder, Secret Garden Party
"A remarkable percentage of the people who had their substances tested there chose to throw them away," he says.
"Otherwise they would have gone on to take something that's clearly not what they were expecting.
"There was a case of some anti-malaria drugs being powdered up and sold as cocaine.
"We also came across someone who was selling ecstasy tablets that turned out to be 100% concrete."
The RSPH reports that 18% of people who brought in drugs for testing then chose to bin them.
Newsbeat met the team running drug testing at Secret Garden Party in 2016.
Kendal Calling, Secret Garden and Boomtown are confirmed to offer drug testing in 2017, with more expected to follow.
But authorities say a national scheme is not in the pipeline.
"There has been no proposed national roll out of drug testing at festivals," commander Simon Bray, the national police chiefs' council lead for drugs says in a statement.
"Any proposal would need to be considered at a local level by the police force, local authority and health services with a view on its legal, scientific and possible health implications."
"Before any type of drug testing could be endorsed locally it is vital that forces have a strong understanding of the implications on policing. Police could not support initiatives that do not comply with the law or that have unintended negative consequences."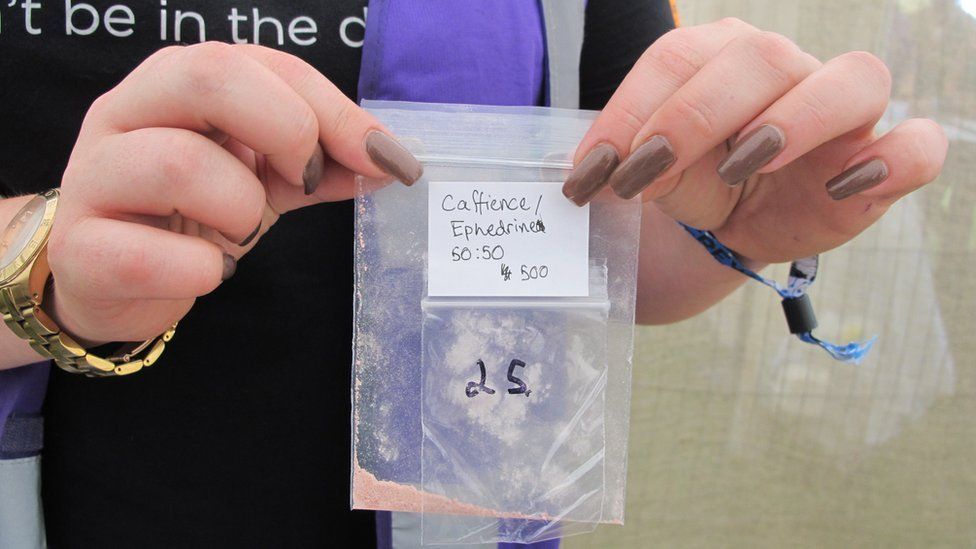 Image caption Drugs were tested at Secret Garden Party and Kendall Calling festivals in 2016
A rise in the strength of ecstasy in the UK has been blamed for an increase in drug-related deaths between 2010 and 2015.
Fifty-seven people died from ecstasy use in 2015 - an increase from 10 in 2010 - and the RSPH hopes to see more drug testing available at clubs as well as festivals.
They claim 90% of clubgoers in the UK would support drug testing at venues across the country.
In countries like Switzerland, drug testing is already commonplace, and Newsbeat visited a drug-testing laboratory in Bern in November 2016.
"I have come so that I know that I don't take anything that is bad for me," said a service user.
"I know when you take ecstasy it is not good for your body, but you don't have to overdo it."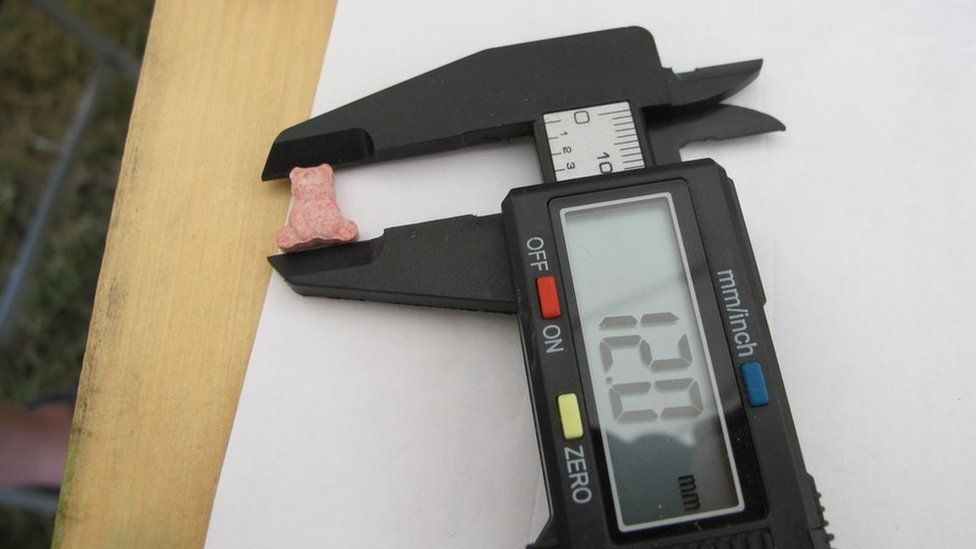 Image caption Tests at Secret Garden Party warned people if their drugs were stronger than they might have expected
"The rise in drug-related deaths at music festivals and nightclubs is a growing problem for policy makers, health authorities and events companies alike," says Shirley Cramer, the chief executive of RSPH.
"While the use of stimulant 'club drugs' such as ecstasy can never be safe, and RSPH supports ongoing efforts to prevent them entering entertainment venues, we accept that a certain level of use remains inevitable in such settings.
"We therefore believe that a pragmatic, harm reduction response is necessary."
You can find help and support on drink and drug use via these BBC Advice pages.
Find us on Instagram at BBCNewsbeat and follow us on Snapchat, search for bbc_newsbeat