Ed Sheeran sings in Game of Thrones cameo
**WARNING: contains spoilers**
Ed Sheeran has appeared as a soldier in Game of Thrones.
The pop star sings, and speaks briefly, during his cameo in the episode, which aired early this morning.
Titled Dragonstone, it's the first episode of the seventh series of the US fantasy TV show.
The 26-year old's performance has divided fans on social media.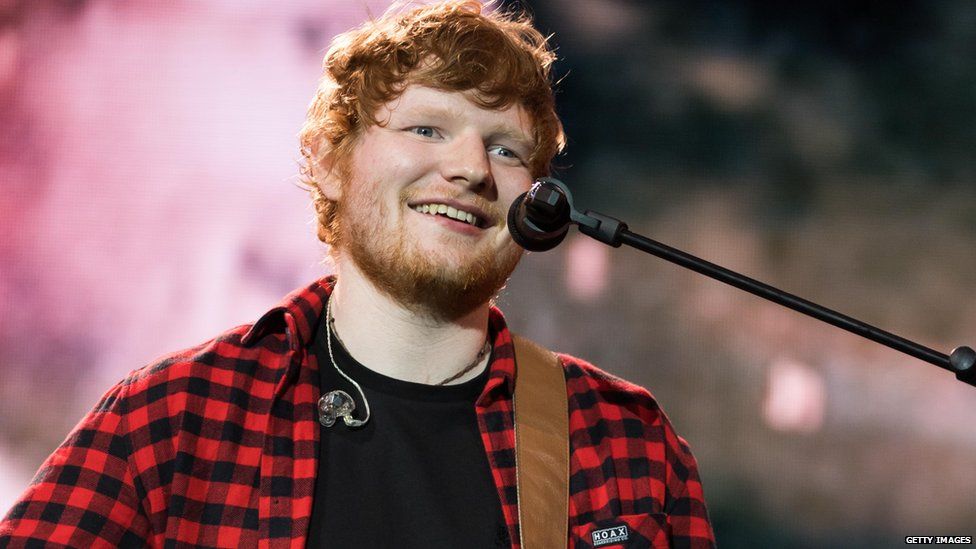 Image caption Ed on stage at last month's Glastonbury Festival
Ed's character, who is not named, is seen singing around a campfire in the forest.
When Maisie Williams's character Arya Stark rides past on horseback, she tells him, "It's a pretty song, I've never heard it before."
"It's a new one," Sheeran replies.
Ed celebrated his appearance in a series of photos on Instagram.
https://www.instagram.com/p/BWoWCCTl-0G/?taken-by=teddysphotos&hl=en
https://www.instagram.com/p/BWohJtkFqpT/?taken-by=teddysphotos&hl=en
Lots of people thought it was great.
https://twitter.com/bykalynn/status/886812268012425217
https://twitter.com/RyanKGreene/status/886764185836806144
Others were unimpressed.
https://twitter.com/nota_regularmom/status/886794017874341888
https://twitter.com/fivefifths/status/886763198363435014
Fans have been waiting for Ed's appearance since March, when the show's creators announced it during their appearance at South By Southwest Festival in Texas.
The episode will be repeated on Sky Atlantic and Now TV at 9pm tonight.
Next season's Game of Thrones will be the last. The show has been running since 2011.
Find us on Instagram at BBCNewsbeat and follow us on Snapchat, search for bbc_newsbeat
---
By accepting you will be accessing a service provided by a third-party external to https://www.catchupnews.org/