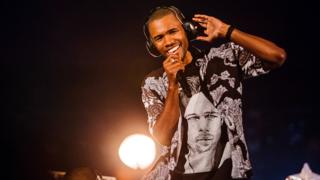 Image copyright
Olivia Williams/Fanatic
Image caption
Frank Ocean, one of pop music's biggest enigmas, has played his first UK gig in three years as Sunday's headliner at the Parklife festival in Manchester.
The singer overcame a series of early hitches that looked like they might derail the set before it had got going.
He had to restart his first song three times and his second song once.
He's already cancelled a series of shows this year. Here, he relaxed after the stuttering start - although the downbeat performance split opinion.
Image copyright
Carolina Faruolo/Fanatic
Image caption
Devotees loved the rare opportunity to connect with an idol whose unpredictability and vulnerability only makes him more precious.
But lots of fans drifted away during the set, especially during a disjointed and meandering first half.
Image copyright
@LauraWattever
Image copyright
@FashernablyLate
Image copyright
@Haydnmcfc
He started half an hour late, which heightened the suspense about whether or not he would appear at all following his recent spate of cancellations.
He has scrapped festival appearances at Primavera in Spain, Hangout in Alabama and Sasquatch in Washington due to "production delays".
But he returned to the stage at Northside in Denmark on Friday and then in Manchester two days later.
He started the Parklife set with Solo, from last year's Blonde album, but stopped the song three times, at one point complaining about the chunky headphones he wore throughout the show.
After eventually making it to the end of that song, he moved into Chanel - but restarted that too despite having virtually made it to the end.
Things got a bit easier after that, and he ended up performing for one hour 15 minutes.
Image copyright
Andrew Whitton/Fanatic
Image caption
He spent most of the time on a stage that had been specially built in the middle of the crowd. It had a stack of boombox speakers at one side and a pole with more speakers and a glitterball at the top.
After prowling the stage somewhat skittishly for the first part of the show, he was later joined by three musicians and they all sat in a circle on equipment crates on the small central stage.
Image copyright
@nomicaitlin
He seemed to gain confidence and the second half brought some sublime moments and some of his better-known songs like Self Control, Thinkin Bout You, Pink + White and Nikes, as well as an idiosyncratic cover of Never Can Say Goodbye.
He was wearing a T-shirt bearing a picture of Brad Pitt after the movie star said in a recent interview that he was a fan of Ocean's.
Image copyright
@Moshin_Uppal
Image copyright
@jess_dicky
Image copyright
@AlexHulmes
His appearances at Parklife and Northside significantly raise the chance of him actually making it to Lovebox in London next month - as well as other festival dates in North America and Europe later this year.
His return to the stage comes after Blonde was named the best album of 2016 by Time Magazine and was number two on the lists of The Guardian, Pitchfork, Stereogum and Spin.
Follow us on Facebook, on Twitter @BBCNewsEnts, or on Instagram at bbcnewsents. If you have a story suggestion email This email address is being protected from spambots. You need JavaScript enabled to view it. .