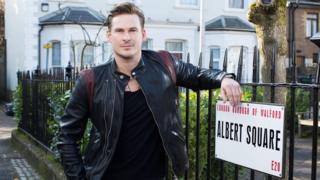 EastEnders actor Lee Ryan has been readmitted to hospital, a day after being released following treatment for a serious complication of tonsillitis.
The Blue singer was treated in hospital for a condition called quinsy over the weekend, but was released on Tuesday.
However, the Press Association says Ryan, 33, has since been readmitted after developing further problems.
Ryan first appeared in EastEnders - as Woody Woodward, who took over the running of the Queen Vic - in April.
The Press Association reported a source saying: "He continues to be under good care and all of the Blue boys have been in to see him.
"He's likely to be in for another couple of days."
His recent stint in hospital comes less than two years after doctors found a cyst in his throat, which was removed over fears it was cancerous.
Ryan rose to fame in the early 2000s as one of the founding members of boy band Blue.
What is quinsy?
Quinsy is a very nasty throat infection that causes abscesses to form in the back of the throat. The pockets of pus tend to result in a really painful sore throat, fever, earache, headache and difficulty swallowing saliva. People may also experience neck swelling and difficulty breathing. Quinsy can develop when a bacterial infection spreads from an infected tonsil to the area around it. Treatment is usually with antibiotics, or in some cases, surgery is needed to drain an abscess.
Follow us on Facebook, on Twitter @BBCNewsEnts, or on Instagram at bbcnewsents. If you have a story suggestion email This email address is being protected from spambots. You need JavaScript enabled to view it. .