Minka Kelly Would Be 'Front And Center' For A 'Friday Night Lights' Movie
There's no denying "Friday Night Lights" was a sleeper hit. After years of mediocre ratings, the critical darling ended with Season 5 in 2011, only to gain a ton of momentum in syndication with new, highly devoted fans.
One cast member who wouldn't say no to a big-screen reunion is Minka Kelly. During an interview with HuffPost on Build Series, the actress said, "I think people are still enjoying the show, so sometimes things are better left wanting more. That's not to say I wouldn't be there front and center should that ever happen. Of course, I would never not honor where I came from, but I think it's perfect where it is."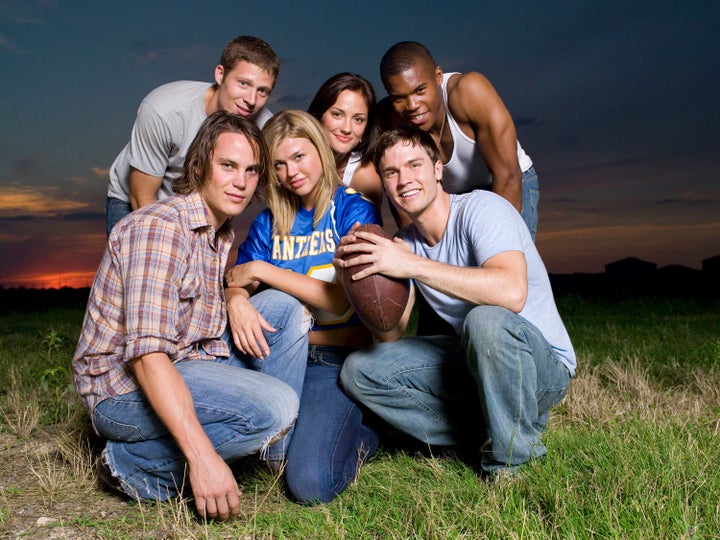 NBC via Getty Images
Back Row: Zach Gilford as Matt Saracen, Minka Kelly as Lyla Garrity, Gaius Charles as Brian 'Smash' Williams; Front Row: Taylor Kitsch as Tim Riggins, Adrianne Palicki as Tyra Collette, Scott Porter as Jason Street
Kelly, who played Lyla Garrity in the first three seasons (and for a brief cameo in Season 4), is honored to have been a part of the cast and loves that the show has found its stride on platforms like Netflix.
"I remember thinking, 'A football show? About a movie? OK, I mean, I need a job,' not knowing what it would turn into," Kelly explained. "Even while we were shooting it, we had no idea what we were making, how special this was, how we truly hit the jackpot with this."
"It really is touching and you feel very lucky and honored to be a part of something so special that really affected people," she added. "I love hearing about families that get to watch it together and it's the one show that they all get to watch collectively and enjoy. It's not just about sports, it's about family."
Speaking of family, earlier this year Kelly's "FNL" co-star Coach Eric Taylor Kyle Chandler told HuffPost that he likes that fans want more, even if they'll never get it.
"What was great about 'Friday Night Lights' was it ended so strong," he said. "It was a great show, we had a great time and it didn't go to the form where it was failing. It ended strong and people wanted more."
Damn right we did ... ehm ... do.
Watch Minka Kelly's full interview on Build below.
---
By accepting you will be accessing a service provided by a third-party external to https://www.catchupnews.org/