Superfruit's 'Future Friends' Explores 'What Pop Music Means To' Out Pentatonix Duo
With Pentatonix, Mitch Grassi and Scott Hoying won TV's The Sing Off and three Grammy Awards. The long-time BFFs admit, however, splinter group Superfruit reflects the "different sides" of their personalities in ways the multi-platinum a capella quintet cannot.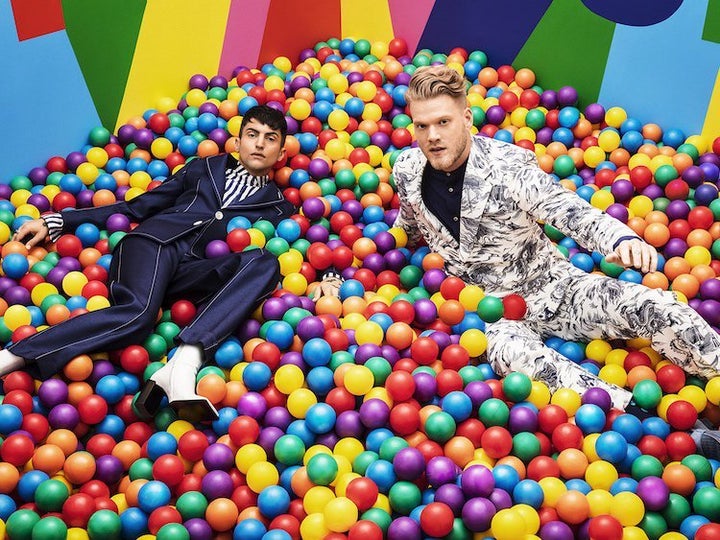 Superfruit — consisting of Pentatonix members Mitch Grassi and Scott Hoying — released full-length album Future Friends Sept. 15.
"We're also gay and fun and best friends," Hoying went on to tell Podomatic's No. 1 LGBT Podcast. "Superfruit is more that side of our personalities."
On Sept. 15, Superfruit released full length album Future Friends. Building on the saccharine-sweet influences of precursor EP Future Friends, Part One, released earlier this year, a video for "How You Feeling?" debuted the same day. A pro wrestling-themed music video for the title track was issued earlier this month.
"[Superfruit] is a very good representation of our musical common ground as people, as musicians," said Grassi during the interview.
"We have very different musical tastes," he shared, "But I think we both enjoy musicality and funk and summer anthems..."
"And pop!" Hoying chimed in.
"And pop music at its very core," Grassi continued, never missing a beat. "It's been fun to explore what pop music means to both of us."
WATCH: Superfruit's "How You Feeling?"
Grassi, Hoying and fellow Pentatonix member Kirstin Maldonado -- who released her own solo EP recently -- first met as high school students in Texas. They later formed the a capella group, which ultimately won the third season of TV competition series The Sing Off.
Collectively, the quintet has nabbed three Grammys, sold millions of albums worldwide and, later this year, regroup to tour in support of a re-released deluxe edition of chart-topping 2016 album A Pentatonix Christmas. A second-annual televised holiday special is scheduled for NBC.
"In Pentatonix, all five of us have to get on the same page for everything we do, so we sacrifice personal things we want [to explore musically], " Hoying said, explaining his and Grassi's decision to release original music as Superfruit.
During what Hoying referred to as a "transitional phase" for the larger ensemble -- presumably bass singer Avi Kaplan's departure from the fold earlier this year -- the duo immediately went to work together. In the interest of time, they opted to release an EP which could "do it's thing" while working toward the full-length album.
"We were, like, very anxious to get started," Hoying stayed. "We had a few months, so we were like, 'Let's get an EP out.' It was just a way to get content out quickly."
Now that the body of work is available in its entirety, the resulting collection bears a mixture of musical influences. Grassi cites artists from Beyoncé to Bruno Mars and Charlie XCX. Hoying said R&B star and acquaintance Jazmine Sullivan "inspired" some melodies for the album.
Both give a nod of appreciation to friend Betty Who, who appeared on Party Foul Radio earlier this year. Their collaboration, "Beautiful," appeared on the Aussie diva's 2017 album The Valley.
"It was amazing; we're such big fans of hers," said Grassi of the "last minute" opportunity to work with Who. "We love that song. The message is so important right now, and it's so on-brand for both of us."
WATCH: Superfruit - "Future Friends"
Accompanying most tracks from Future Friends are vivid music videos. Each shows a different aspect of the pair's relationship which, despite never-ending curiosity and insistence from fans, is strictly platonic.
"I feel like our friendship is so bright and upbeat and colorful," Hoying detailed. "We wanted to give that look in our videos. We wanted to be fun and free and liberated.
"'Liberated' is a good word," Grassi agreed.
That does not mean the pair do not feel at liberty to be themselves in Pentatonix, Grassi stated emphatically.
"We absolutely do, but it's different," he says. "We are definitely ourselves in Pentatonix, but it's a sort of different demographic. There is an overlap, but we're catering to a different crowd."
Grassi is quick to ease the minds of fans worried success outside Pentatonix might spell the end to the act. He suggests members satisfying individual creative drives actually makes the collective stronger.
"We all have different creative passions and ideas that we couldn't necessarily execute in Pentatonix," he concluded, "It's nice to have our own creative outlets. It helps us a lot."
LISTEN: Superfruit talks Future Friends, Todrick Hall's Taylor Swift Controversy & More.
---
By accepting you will be accessing a service provided by a third-party external to https://www.catchupnews.org/